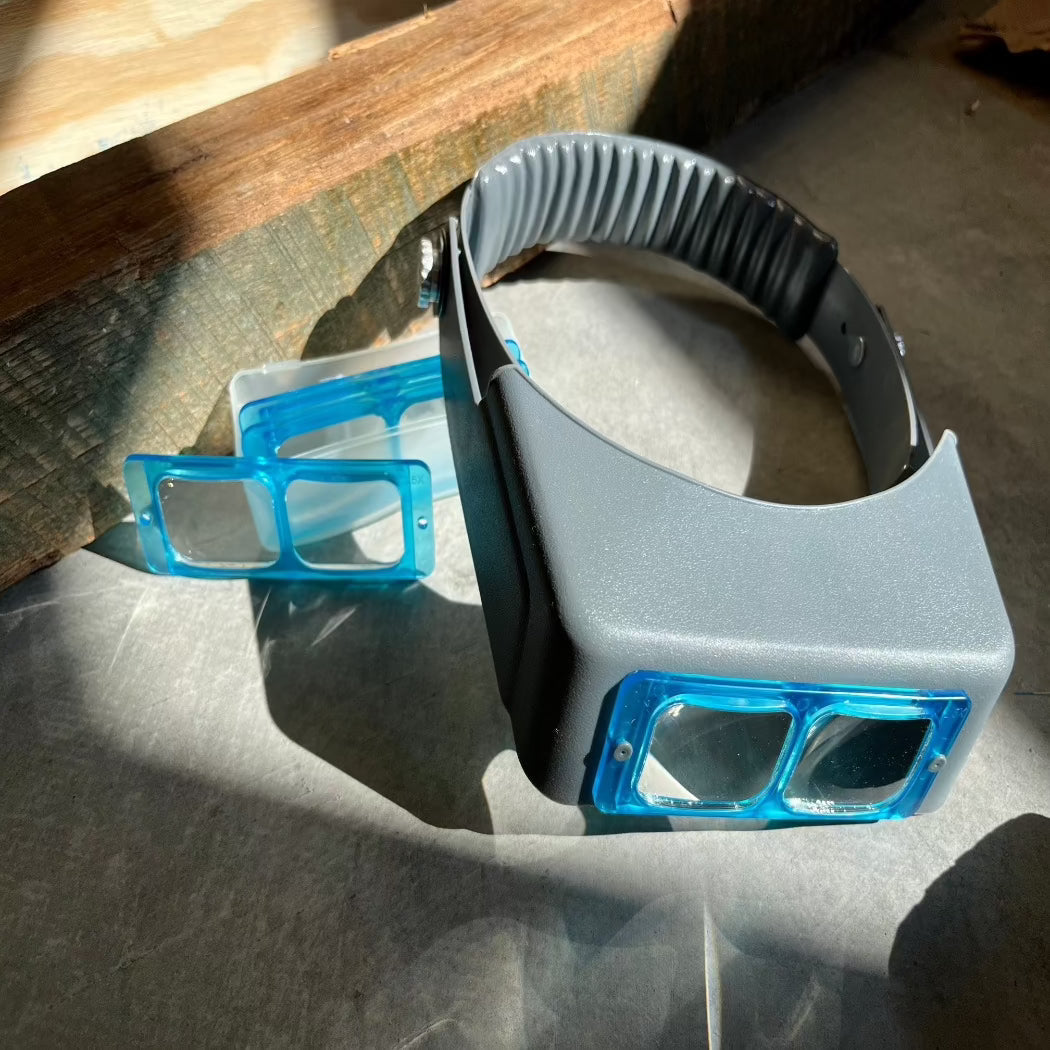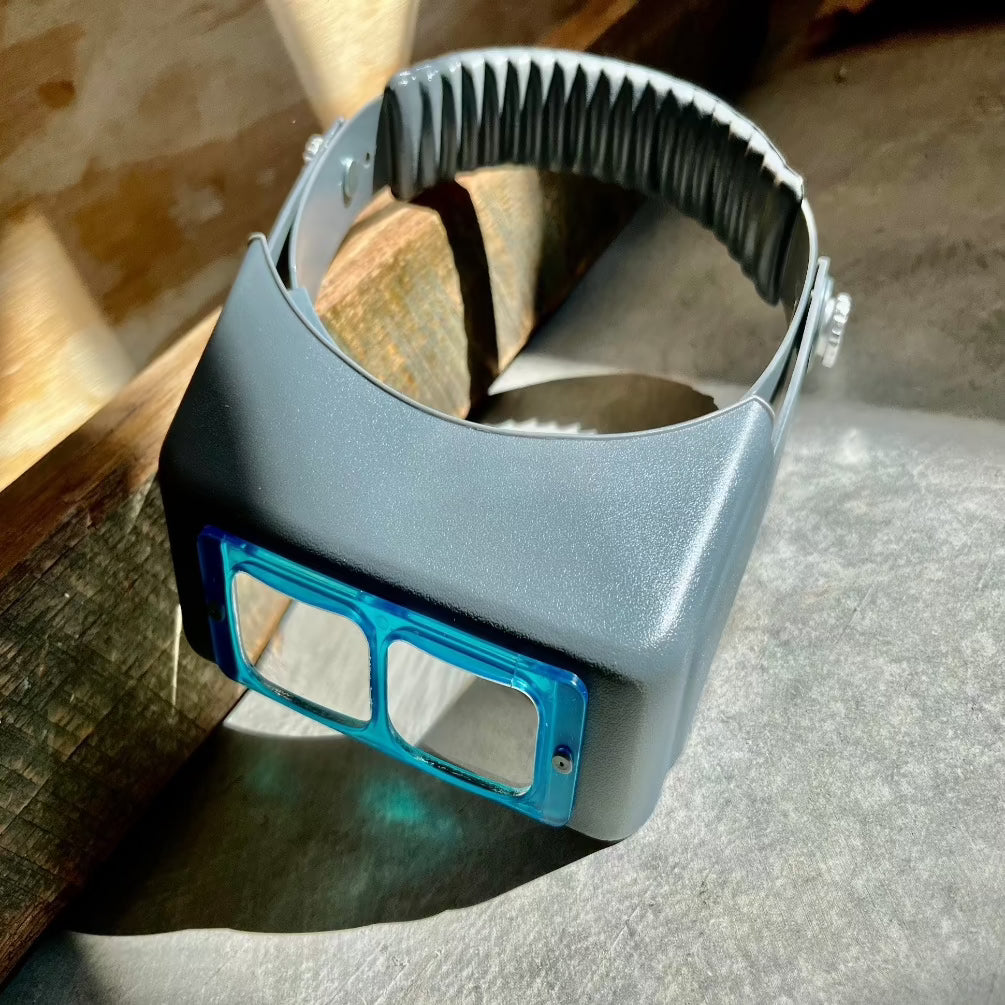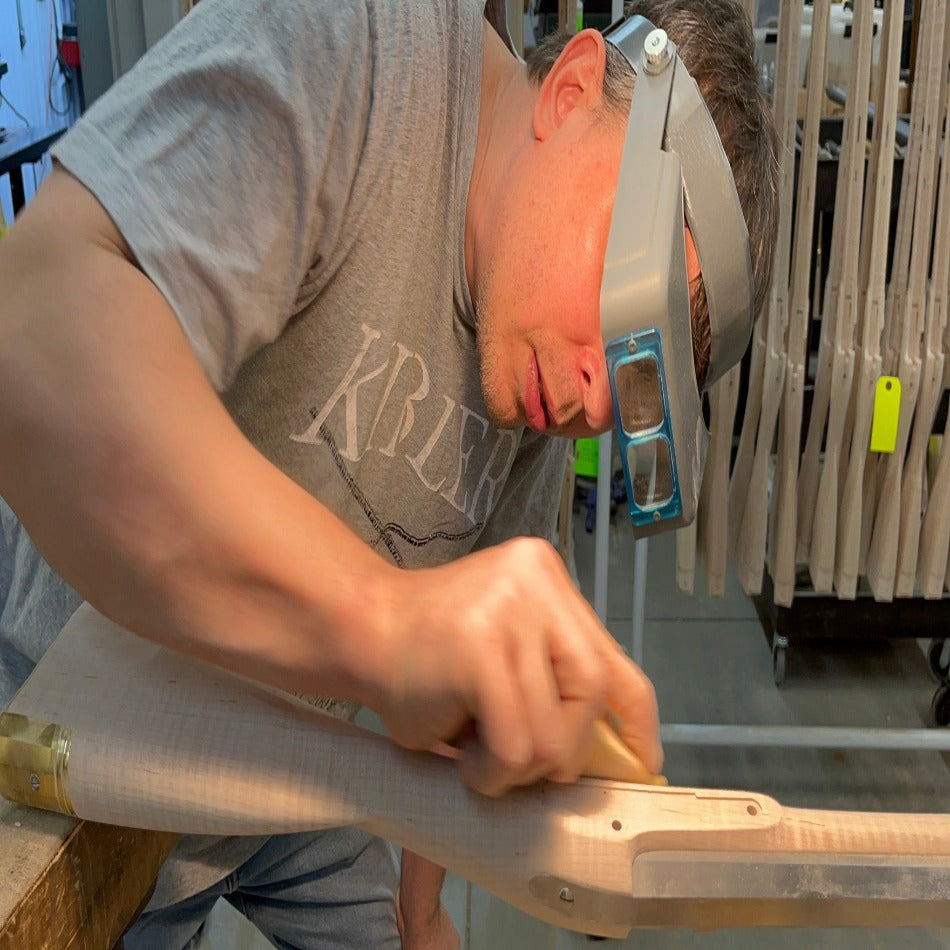 Head Mount Magnifier 1.5X, 2.0X, 2.5X, 3.5X plastic lenses
Jim wears these all day in the shop and they are moderately comfortable for 8 hours.  Would be perfect for shorter stints. This imported headband magnifier set comes with 4 interchangeable plastic lenses 1.5X at 15" focal length, 2.0X 10", 2.5X 7", and 3.5X 6".  Jim tends to keep the 2.5 magnification on most of the time during his gun and machining work.
These can be worn over prescription glasses or safety goggles and the visor can be tilted up or down. You will need to tighten the screws to keep it from coming loose.
---
Head Mount Magnifier 1.5X, 2.0X, 2.5X, 3.5X plastic lenses
Perfect magnifier for close work
It works well and is so comfortable that you forget you have it on.
Head Mount Magnifer
The Head mount magnifier is a great tool for us older guys whom need a a helpful hand in seeing small details. Tyhe nice thing about the Magnifier is that it has inchangable lenses depending on your needs. I highly recommand this item for anyone who needs a helping hand.
Optivisor
I have used Optivisors for many years at my job and they are very handy. I never had a pair at home however and am glad to see you offered them at a really great price. Glad to have them for work on my next Kibler kit.
Tired old eyes assistant
The head mount magnifier is super. I wear reader glasses daily but this piece of equipment gets me closer to the work, especially fine firearms work, springs, screws, tool marks and such. You have got to have one of these. And the price is right at Kibler's store.
Shipping
Liquid Shipping
Liquids will not ship in the kit box. There are different regulations that apply to the chemicals that we sell and they will need to ship ground, when the kits will ship USPS Priority Mail. Plus, it would really stink if a liquid were to leak on your beautiful new kit!
Order tracking
You will receive tracking information when your item ships. For kits, you will be contacted before shipment and after shipment so there is no need to worry about a kit box shipping when you are out of town. All other packages will ship when available and you will be emailed a tracking link.
Get in touch
If you have questions, feel free to email us at info@kiblerslongrifles.com or give us a call at 330-551-5844. Even if you have to leave a message, we promise to get back with you right away. Bree can answer most questions and she will be sure to ask Jim when needed.