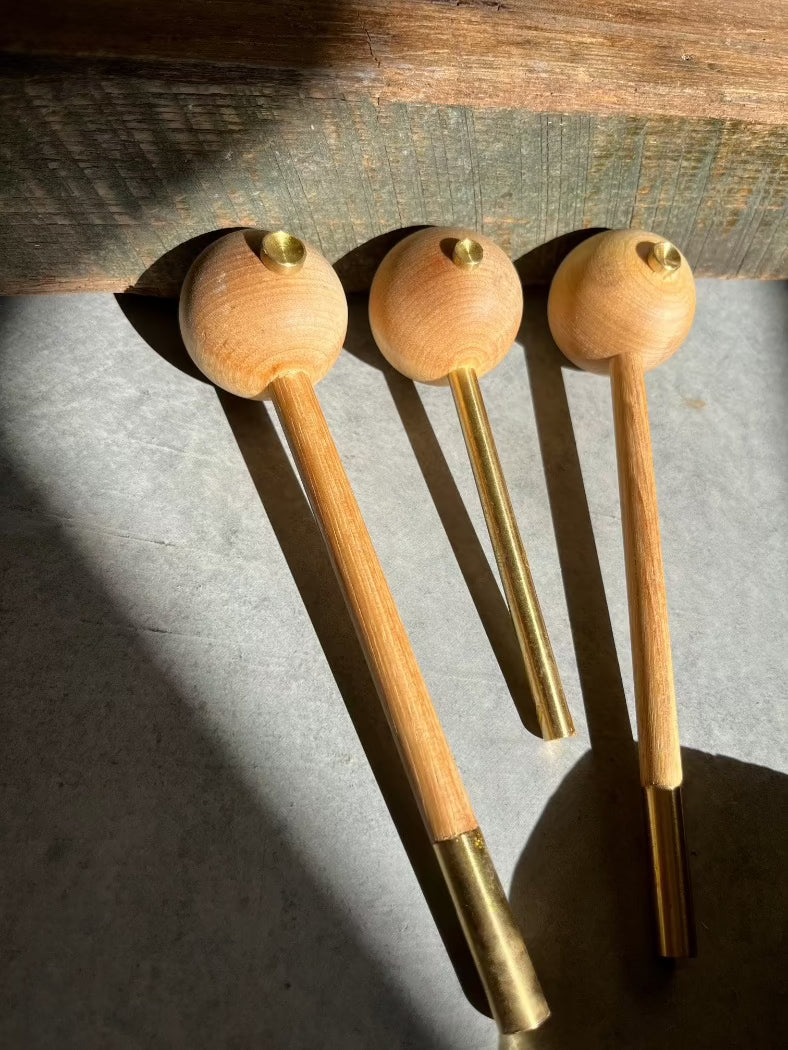 Short Starter - select size
Short starter for .32 to .38 caliber, 5/16" brass rod, made in the USA
Short starter, ball starter for .40 or .45 caliber patched round balls, 3/8" hickory rod, brass tips
Short starter for .50, 7/16" hickory rod, maple ball handle made in the USA
Short starter for .54 and larger caliber balls, 6" hickory 1/2" rod, brass tips, made in the USA
Known as a Short Starter or ball starter, use the small stud to bump the patch and ball into the muzzle, to engrave the rifling. Use the longer rod to start the ball, then use your ramrod. Use short strokes of your ramrod to seat the ball on the powder charge. Avoid grasping the ramrod high above the muzzle, which may flex the rod to the breaking point. Short strokes, about the length of the starter rod, will work perfectly.

Wipe the bore after each shot, including the first shot. A dirty bore may result in a stuck patch and ball, or a broken ramrod. A patched round ball slides smoothly down a clean bore. Modern synthetic patch lubricants (Wonder, 1000, Miracle) are very slippery, allowing reloading without wiping, but this is not good practice.

The maple ball is fitted with a short brass stud and a longer concave brass rod (smallest size) or brass tip (larger calibers). Finished in hot linseed oil, with waterproof glue, the brass rod and tip should give a lifetime of service.


---
Short Starter - select size
High quality Short Starter
I always trust Jim Kibler to provide high quality tools and shooting supplies.
Short starter
So far every product I've purchased from Kibler has been fantastic. The support is awesome, friendly & patient Thank You so much!!!!!
Woodsrunner
Does the job well! Even for first time muzzleloaders!
Shipping
Liquid Shipping
Liquids will not ship in the kit box. There are different regulations that apply to the chemicals that we sell and they will need to ship ground, when the kits will ship USPS Priority Mail. Plus, it would really stink if a liquid were to leak on your beautiful new kit!
Order tracking
You will receive tracking information when your item ships. For kits, you will be contacted before shipment and after shipment so there is no need to worry about a kit box shipping when you are out of town. All other packages will ship when available and you will be emailed a tracking link.
Get in touch
If you have questions, feel free to email us at info@kiblerslongrifles.com or give us a call at 330-551-5844. Even if you have to leave a message, we promise to get back with you right away. Bree can answer most questions and she will be sure to ask Jim when needed.