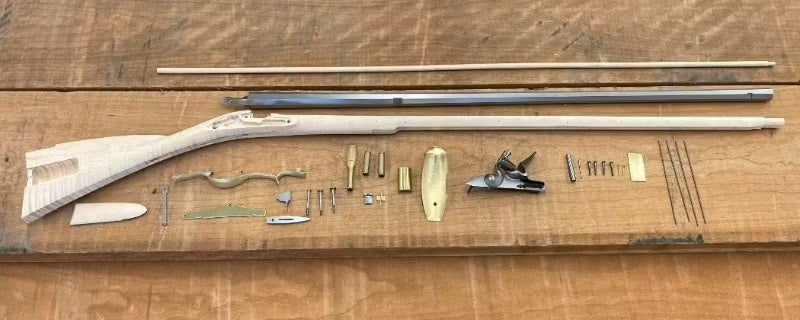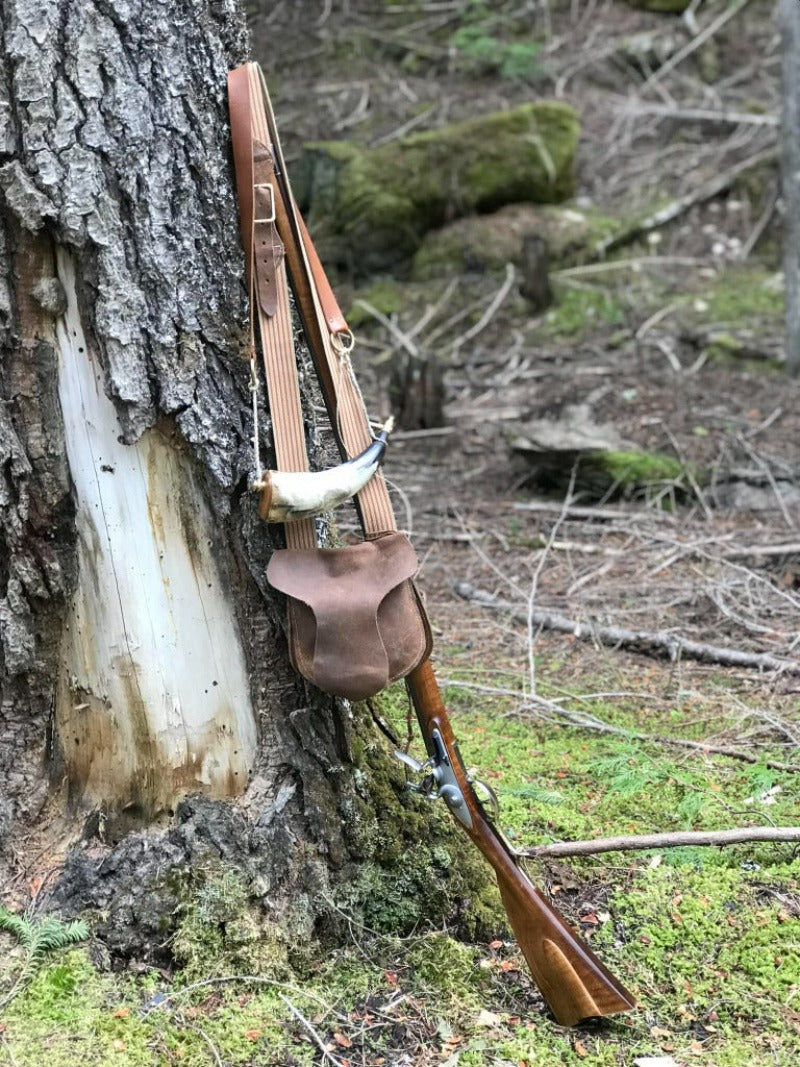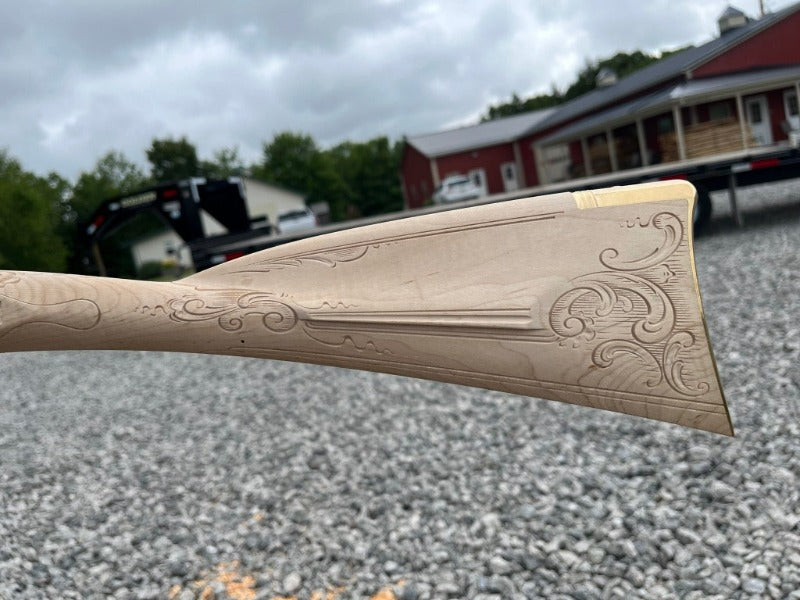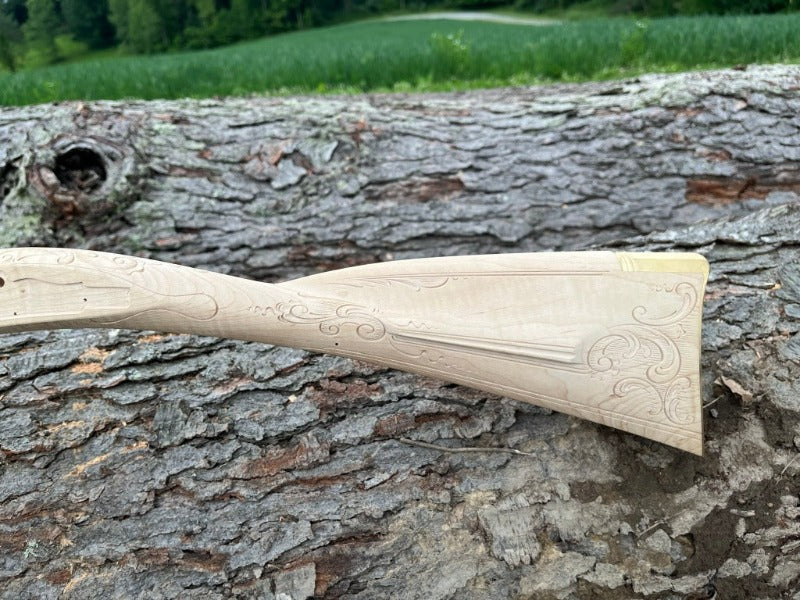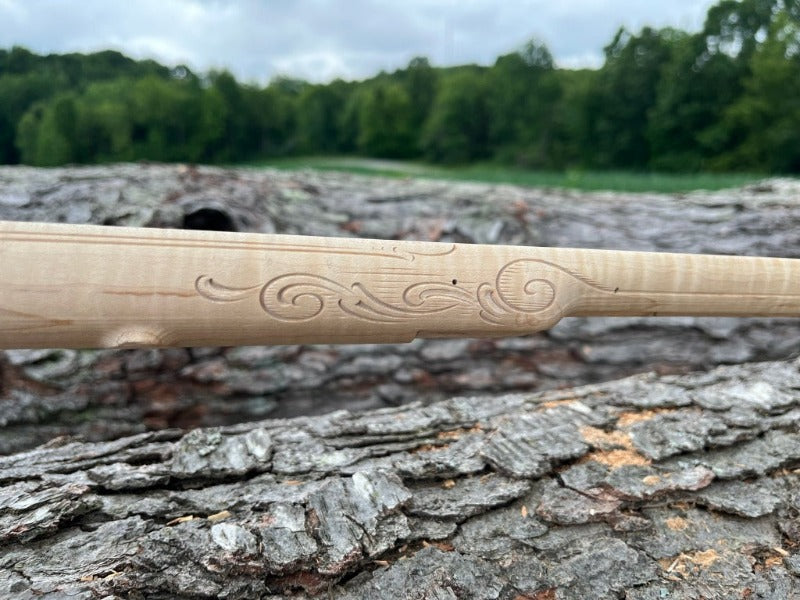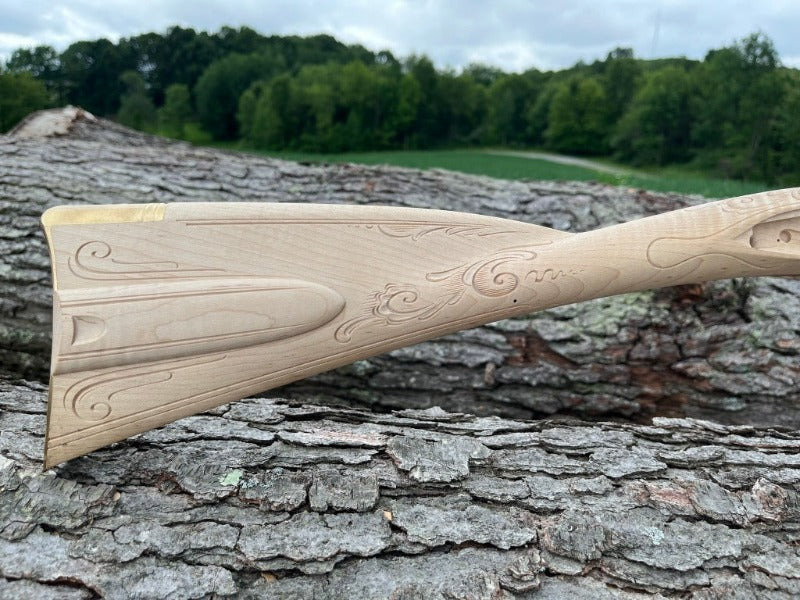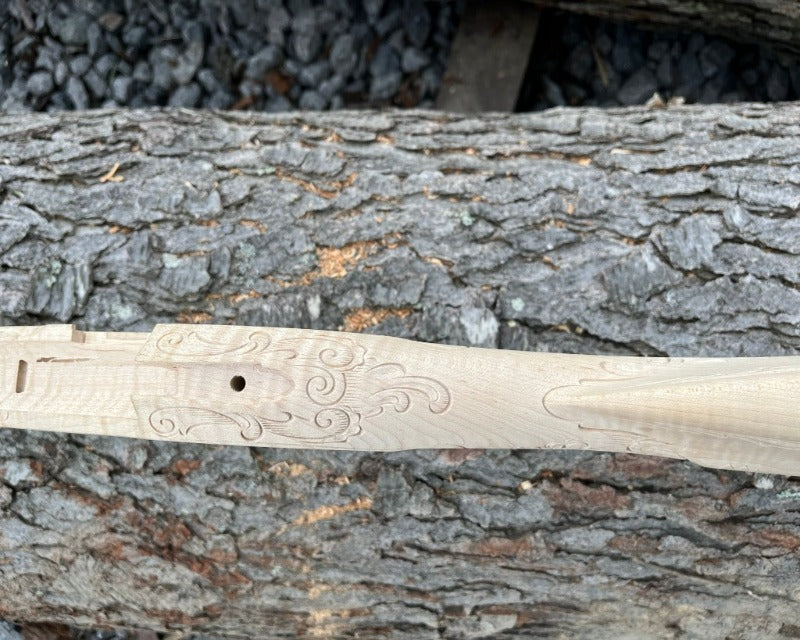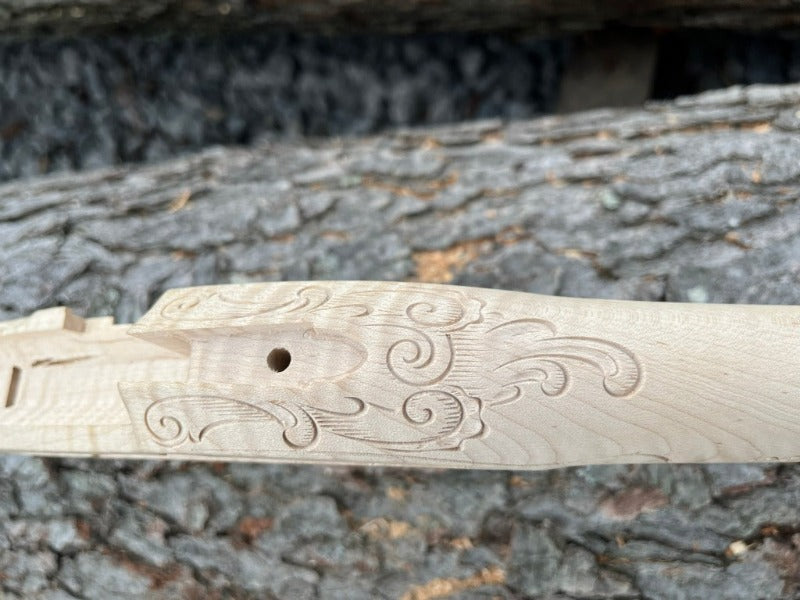 "Woodsrunner" Rifle Kit +$300 for Lock Billed Separately CARVING OPTION AVAILABLE
Overview

"Woodsrunner"

INCLUDED PARTS

PRICING

Carved

IN THE WHITE

FINISHED RIFLES
Wait Time Estimates for Woodsrunner 1-3 weeks
Photos of finished rifles are EXAMPLES of what can be done. Rifle is shipped in unassembled kit form.
Stocks for this kit are being produced on new and highly sophisticated CNC equipment.  This will result in a kit that is even easier to assemble as compared to our current offerings.

The kit does not come carved--the photo with the carving is a custom rifle Jim made years ago that was based on the "Woodsrunner" rifle
Inspired by an original rifle, commonly referred to as the "Woodsrunner" which many believe to have been made in the valley in Virginia during the 1760s.
Reminiscent of a true frontier rifle
Weight 7 ½ to 8 Lbs.
Barrel Length 39 ¾"
.45, .50, .54 caliber
Nicely Swamped Barrel
Pull 13 7/16
Cast-off 3/16"
Cherry, Walnut, Maple, Fancy Maple, Extra Fancy Maple

Kibler Round-Faced English Lock
Sliding Wood Patchbox Only
Brass Hardware
Single Trigger

Very handy and easy to carry

Customer Supplied Wood needs to be 57 1/2" long and 2 ¼" thick
Stock
Barrel
Lock
Trigger and plate
Touch hole liner (installed in barrel)
Buttplate
Trigger Guard
Entry pipe
Two forward ramrod pipes
Nose cap
Side plate
Ramrod
Ramrod tip
Front and rear sights
Lock bolts
Tang bolt
Sliding wood box lid
Box lid catch spring
Pin stock
Buttplate screws
 $880 Base Price Kit = $1180 Total - $300 Round-Faced Lock billed separately (do not purchase through the store)
Prices do not reflect the price of $300 lock which we will bill separately after your order. After you place your order, you will get an email with instructions on how to pay for your lock. (By separating the billing we are able to avoid excise tax complications.)
After you place your order, within 48 hours you will get an email with instructions on how to pay for your lock. (By separating the billing we are able to avoid excise tax complications.)
$1180 total Standard Maple (approx. 10-35% curl) or Cherry.  $880 plus $300 lock billed separately 
$1330 total if Fancy Maple (approx. 35-65% curl) or Walnut. $1050 plus $300 lock billed separately
$1480 total if Extra Fancy Maple (approx. 65-90% curl). $1180 plus $300 lock billed separately 
Shipping typically runs around $60-$100 but varies based on location. 
A fully carved longrifle kit.  Impossible?  Think again!  We're extremely excited to announce a fully carved version of our Woodsrunner rifle kit. 

In development for months, Kibler's Longrifles has combined it's expertise in CNC machining with the company's background in producing high end custom Longrifles.  The result is a rifle with beautifully designed and executed carving available at an unbelievable price point.

Carved in nearly all possible locations, the designs are such that a harmonious and beautiful rifle results.  Check out the included photos to see for yourself.

A rifle of this quality was previously only available from a high-end custom builder for a significant price tag, and many years-long wait times, but things have now changed.
This carving option is available at an extremely affordable introductory price of $375.  Place an order and get your hands on it in just a few short weeks.  We can assure you that you won't be disappointed.


This service is available as an add on to a kit gun order.  This is $525 for this service. You will need to contact the office via 330-551-5844 or info@kiblerslongrifles.com

A gun provided "in the white" will be completely assembled and functional.  The wood will need sanded and finished.  The metal will also benefit from some cleanup.  This is typically a little light filing on the rough spots followed by a little polishing with abrasive paper.  The metal can be left in this condition or can be blued, browned, aged etc. 

Your kit will arrive assembled, ready for you to customize and finish.
We recommend the work of talented and experienced gunsmith, Chuck Edwards, for those who would like additional finishing work done on their Kibler Rifle.  He can be reached at (573) 421-5098 and his online page is found on Facebook.  He has finished out many Kibler rifles and does fantastic work.  The pricing will vary depending on the work and should be discussed with Chuck.
---
"Woodsrunner" Rifle Kit +$300 for Lock Billed Separately CARVING OPTION AVAILABLE
I would recommend this kit to anyone. Whether an advanced woodworker/metalworker, or someone who does not have as much experience, these kits are very straight forward and clear directions are given. There are also videos on Youtube provided by Jim that tell you how to do everything step-step-step. The quality of the parts especially the lock, are unmatched by any other kit I have ever constructed.
Woodsrunner
This is the second kit I purchased this year, the SMR being the first. The SMR came with all the parts separated. The Woodsrunner came with the butt plate, trigger gaurd, and ramrod tube already fitted to the stock. The quality is beyond compare with anything I've ever assembled.
The Best. A Fantastic Kit
The CNC machining on this kit means little to no wood removal. Even if you are all thumbs, you can create a beautiful gun. I am by no means a woodworker, but I was able to carve on the wood, and finish the stock without a problem. The lock fit in the mortis as if it had grown there. The same with all the other parts. You have to do some filing on the brass, but that should not deter you. If you put in a little time, you will have a super rifle!
Coureur du bois
Everything was as expected except the trigger guard casting has flaws. After material was removed and the guard filed and sanded, it still shows areas of "pin holes" that can't be removed. It is functional, but detracts from the appearance of the gun. I will probably order a replacement trigger guard.
Woodsrunner Satisfaction
I had never built a longrifle before ordering the woodsrunner with an extra fancy incise carved maple stock. The quality is excellent!
I watched all of the Jim Kibler videos I could find.
I followed Jim's lead on the process and had the rifle assembled in the white in less than 2 hours after opening the shipping box.
I spent the next days finishing the metal and wood fitment with sandpaper.
Finishing the wood was a creative process for me.
This is a very satisfying project which I recommend to all.
If anyone is interested I can provide photographs.
I will order another kit. I would love to see a pistol kit !
Thank you Jim and Crew.
Shipping
Liquid Shipping
Liquids will not ship in the kit box. There are different regulations that apply to the chemicals that we sell and they will need to ship ground, when the kits will ship USPS Priority Mail. Plus, it would really stink if a liquid were to leak on your beautiful new kit!
Order tracking
You will receive tracking information when your item ships. For kits, you will be contacted before shipment and after shipment so there is no need to worry about a kit box shipping when you are out of town. All other packages will ship when available and you will be emailed a tracking link.
Get in touch
If you have questions, feel free to email us at info@kiblerslongrifles.com or give us a call at 330-551-5844. Even if you have to leave a message, we promise to get back with you right away. Bree can answer most questions and she will be sure to ask Jim when needed.