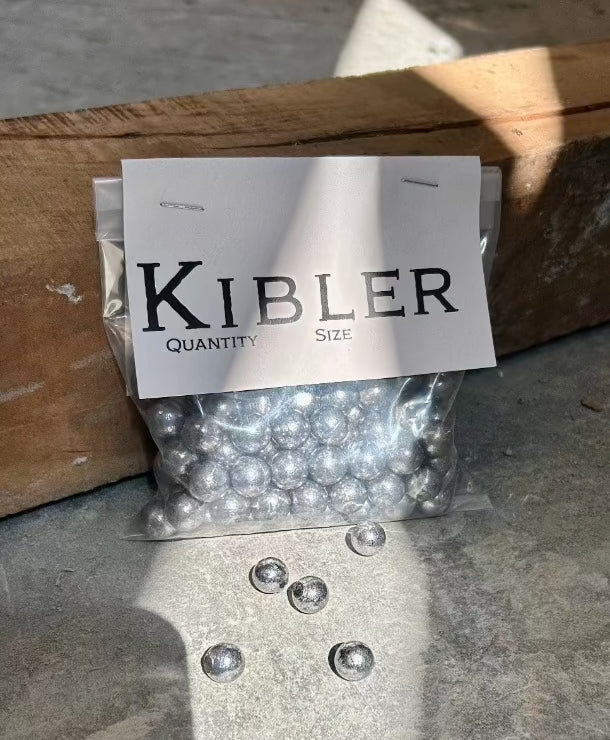 Round Balls - Pure Lead, Hand Cast
Hand cast round balls are cast from pure soft lead. Each ball has a tiny flat, where the sprue was removed. Place this flat spot on top, centered on your muzzle. Hand cast round balls are made in a variety of calibers.
QUANTITY VARIES BY CALIBER
.495 and smaller in bags of 100
.530 and larger in bags of 50
---
Round Balls - Pure Lead, Hand Cast
Round Balls
I have not shot them yet, will review when have.
thank you,
James
Cast round balls
Haven't had a change to shoot the cast balls yet. Started shooting hornidy round balls then planned on switching over to the cast to compare group size as the cast balls have a small flat spot from cutting lead off on mold. Got rained out. Hornidy shot great. Can't wait to compare groups with the cast balls.
Not fun 😂
Many years ago I casted and swedged 100's of round balls - fyi - do not breath in fumes - keep a smell fan going - best to do outdoors
Well cast round balls
Well made round balls with the sprue removed, doesn't get any better than this.
Shipping
Liquid Shipping
Liquids will not ship in the kit box. There are different regulations that apply to the chemicals that we sell and they will need to ship ground, when the kits will ship USPS Priority Mail. Plus, it would really stink if a liquid were to leak on your beautiful new kit!
Order tracking
You will receive tracking information when your item ships. For kits, you will be contacted before shipment and after shipment so there is no need to worry about a kit box shipping when you are out of town. All other packages will ship when available and you will be emailed a tracking link.
Get in touch
If you have questions, feel free to email us at info@kiblerslongrifles.com or give us a call at 330-551-5844. Even if you have to leave a message, we promise to get back with you right away. Bree can answer most questions and she will be sure to ask Jim when needed.