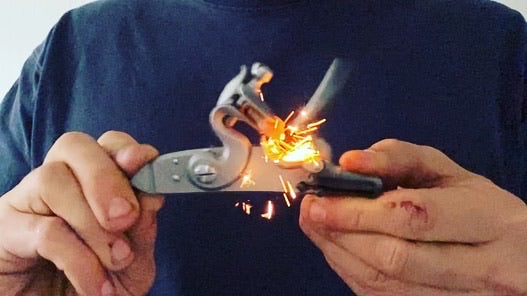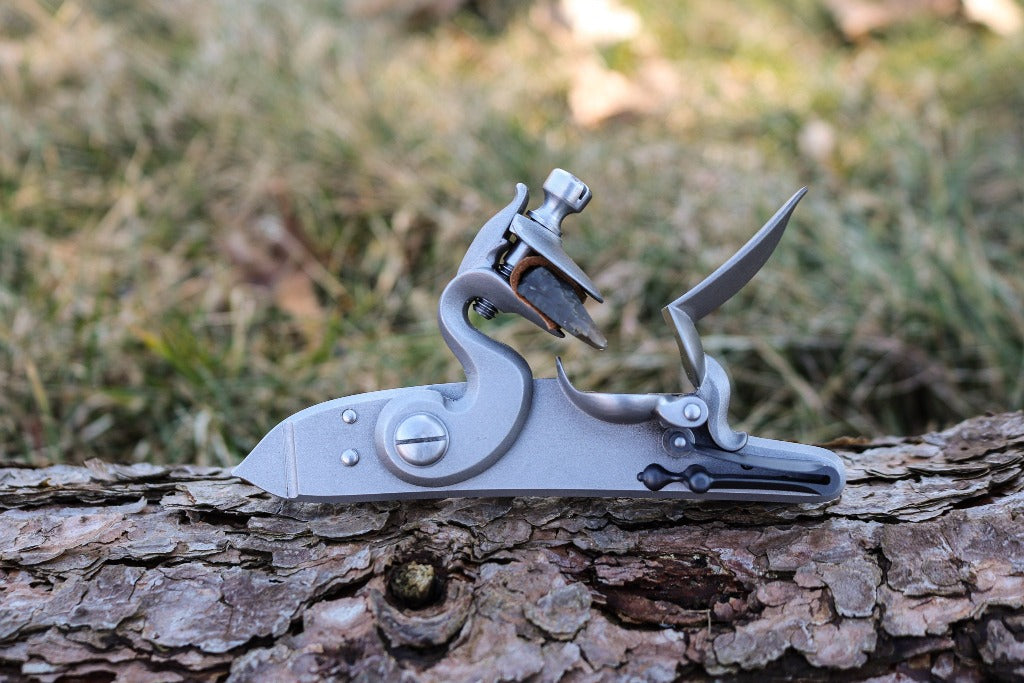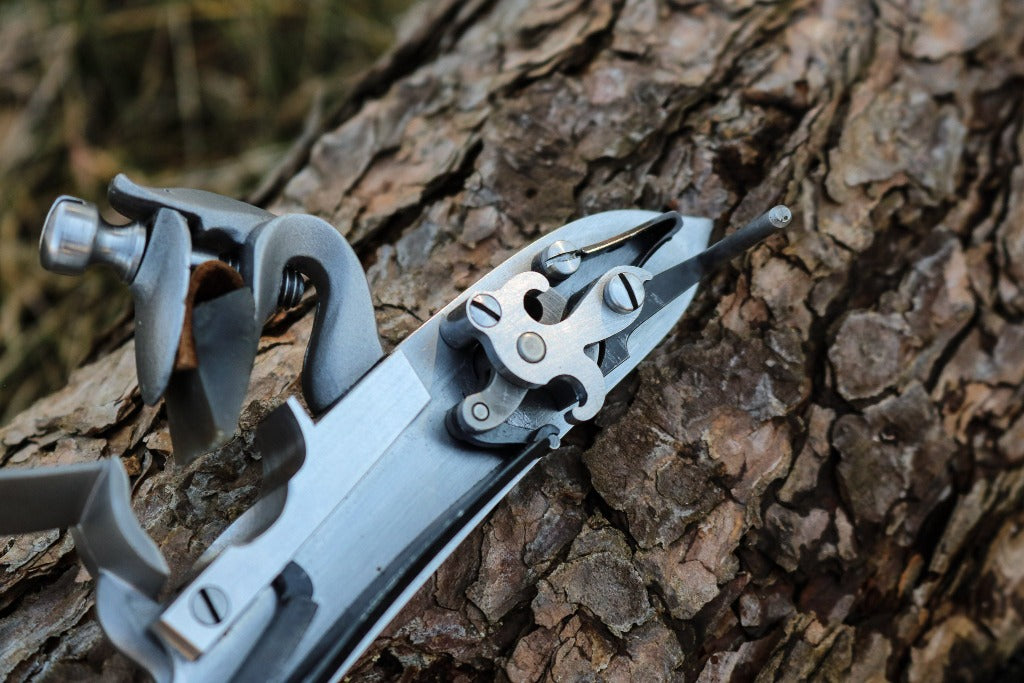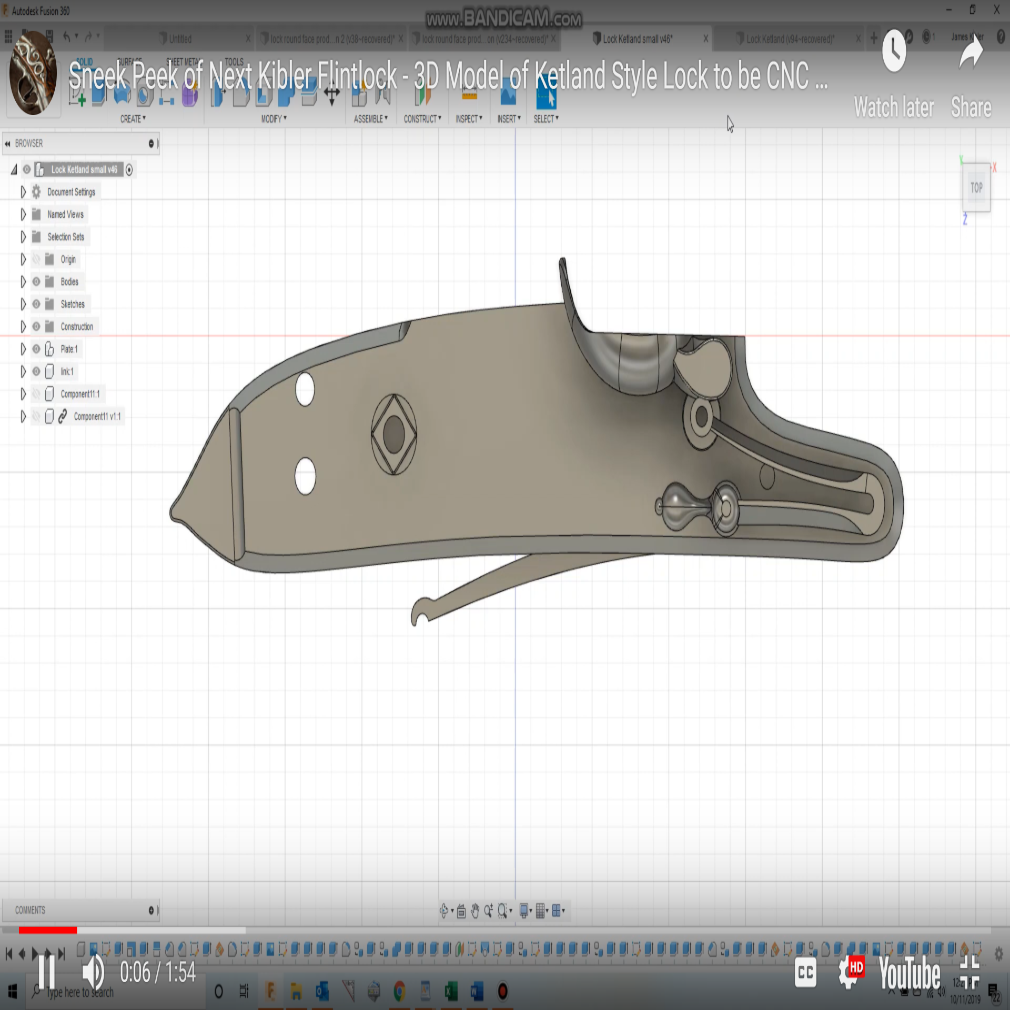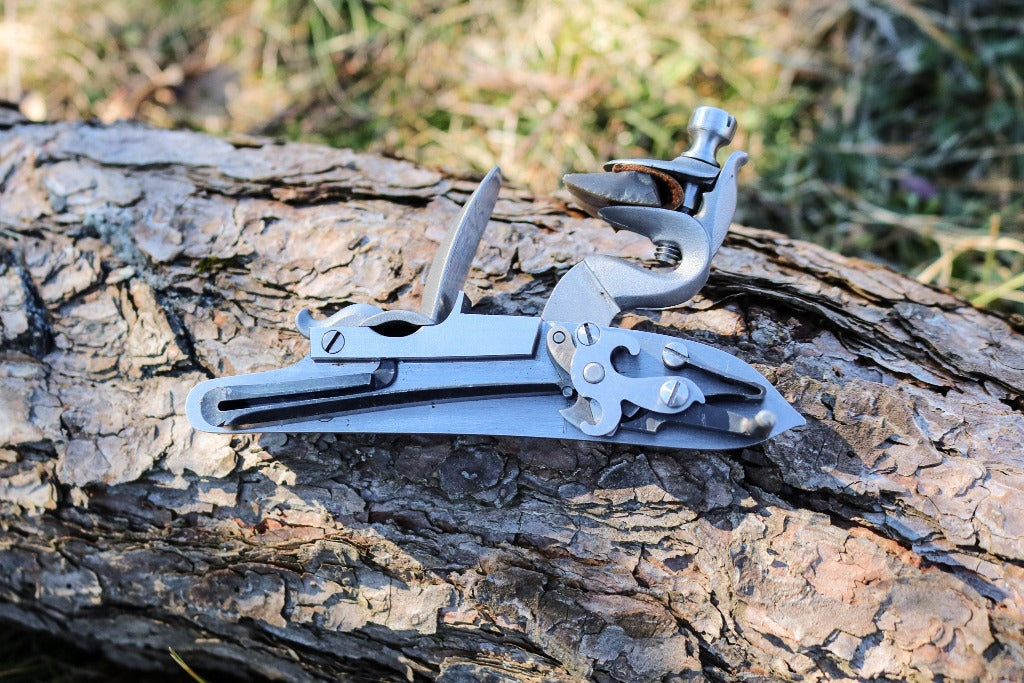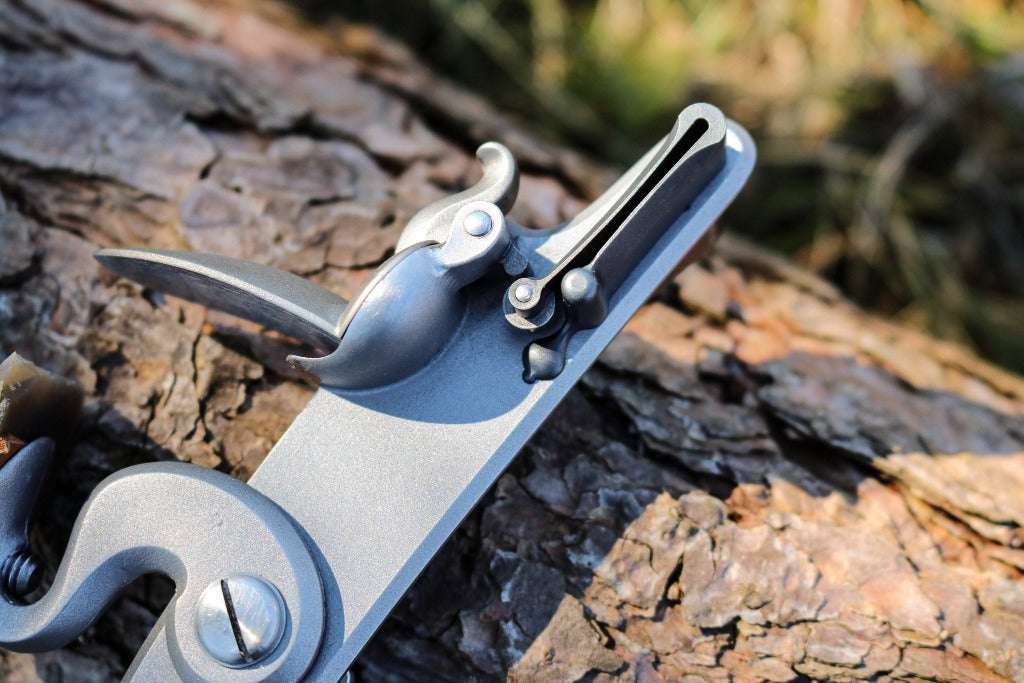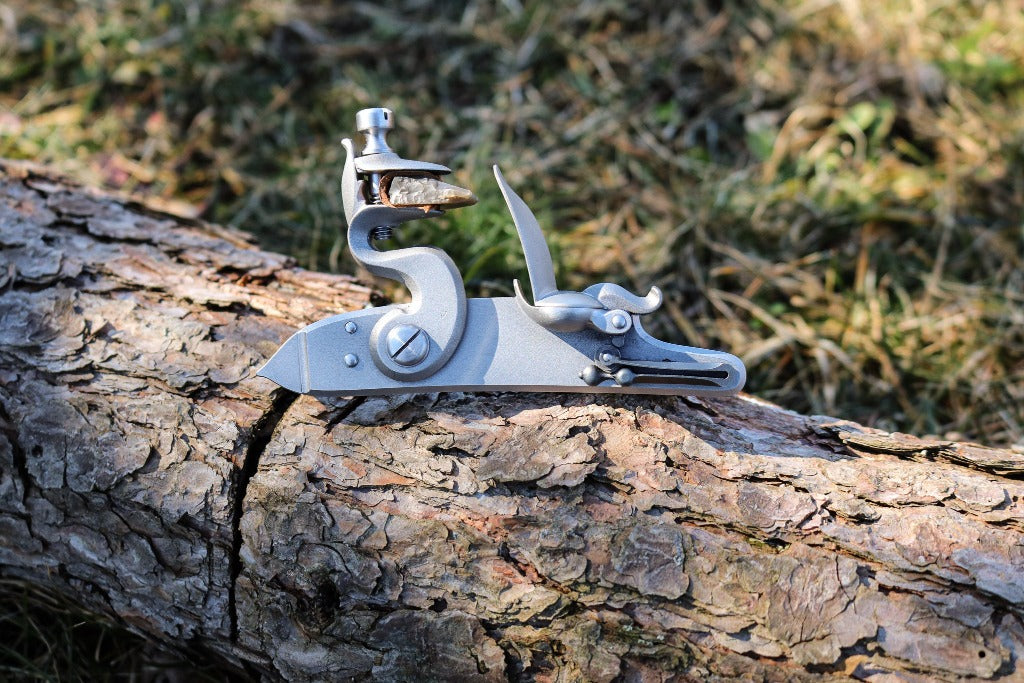 Kibler's CNC Ketland Import Flintlock
DO NOT ORDER FOR KIT - LOCKS FOR KIT WILL BE BILLED AFTER YOU ORDER KIT
Ketland style import lock from the 1800-1810 time frame.
4.75" x .920" behind fence
Works well for pistols, or any post-1800 longrifles.
 Flint Size - 3/4" by 7/8" 
These locks are different than all other modern production locks.  Instead of using investment castings all critical parts are machined.  This results in a product that is far more precise and repeatable when compared to current available locks.  I would estimate the tolerances with machining are an order of magnitude (10X) better than that available with investment casting. 
In addition, we have spent a tremendous amount of time developing a historically correct and stylistically beautiful lock that functions impeccably.  I must give credit to Frank House for offering critique and suggestions during this process.  Having someone to work with during this process proved invaluable. 
So what does extremely fine tolerances and great design result in?  A lock that functions extremely smooth, free from many problems associated with current production locks and one that performs the required task very well.  The function of each lock is nearly indistinguishable to the next lock.  We're obsessed with details and the results show.
To summarize, our goal is to provide locks with impeccable, design, construction and function at an affordable price.  This has proven to be incredibly difficult, but it is our commitment to all of you.
Fully machined components: Lock plate, tumbler, sear, bridle, sear spring, mainspring, frizzen spring.
Investment castings used: Frizzen, cock and top jaw.  Note, all critical surfaces of the frizzen are machined or surface ground ( bottom of pan cover, sides of frizzen foot and frizzen pivot hole and toe of frizzen).  This ensures precise repeatable function.
Completely interchangeable parts.
Typical machined tolerances are in the range of +- .001" while critical locations such as pivots are held tighter.
Frizzens are 1095 steel with a surface carbon boost heat treatment to insure great function.
Springs designed for optimum performance and manufacturing process guarantees a high degree of consistency.
Bridle located with pins rather than screws for strength and precision.
---
Kibler's CNC Ketland Import Flintlock
Five Stars
One of the best commercial locks available today. Fast, sparks like crazy, and easy on flints. This is my third one going on a build.
The best lock offered today
I've been making flintlocks for many years and have used everything on offer. Kibler locks are the best. If you want a fast lock, look no further.
Kibler's CNC Ketland Import Flintlock
Satisfied customer
Awesome lock. I would love to have one left hand.
Top Quality
Fastest most dependable Lock i have fired fired !
Fastest Lock i have owned !
Shipping
Liquid Shipping
Liquids will not ship in the kit box. There are different regulations that apply to the chemicals that we sell and they will need to ship ground, when the kits will ship USPS Priority Mail. Plus, it would really stink if a liquid were to leak on your beautiful new kit!
Order tracking
You will receive tracking information when your item ships. For kits, you will be contacted before shipment and after shipment so there is no need to worry about a kit box shipping when you are out of town. All other packages will ship when available and you will be emailed a tracking link.
Get in touch
If you have questions, feel free to email us at info@kiblerslongrifles.com or give us a call at 330-551-5844. Even if you have to leave a message, we promise to get back with you right away. Bree can answer most questions and she will be sure to ask Jim when needed.