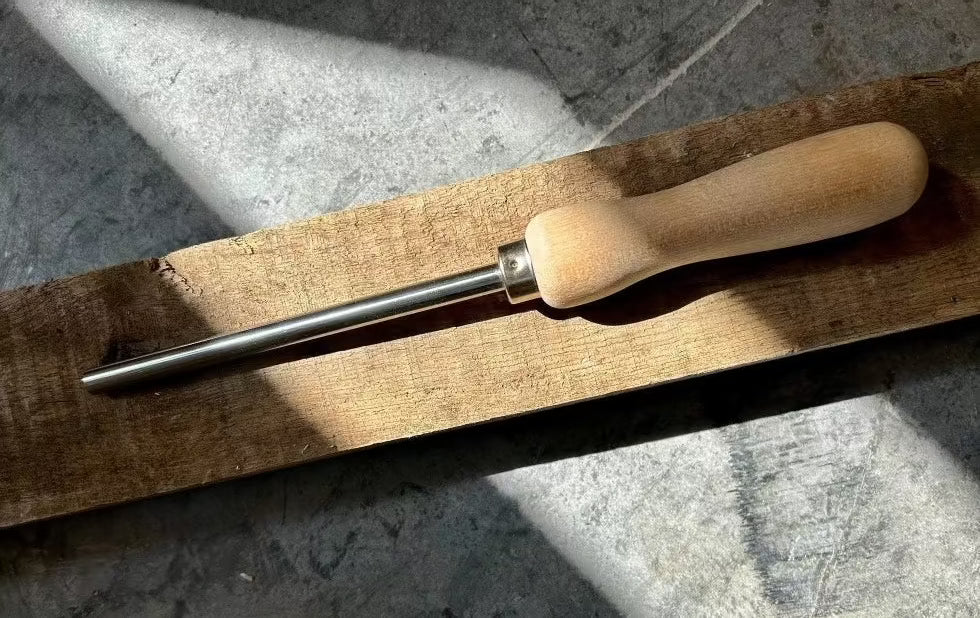 Hardened Steel Scraper Burnisher
The secret to effective hand scraping is a good hook on the edge of the scraper. Our burnisher has an extra-hard, smooth finish that not only forms a uniform hook on all shapes of scrapers, but also minimizes friction during burnishing.
Hardened to Rc 60, this burnisher is substantially harder than the scrapers on which it is used. The 3/8" diameter 1566 Carbon steel rod is 7" long, providing ample length to hold burnishing angles. With the wooden handle, it is about 12" long overall.
Made in USA
---
Hardened Steel Scraper Burnisher
Burnisher
The Burnisher worked great, I have used other things to burnish my scrapers and now I don't have to work so hard to accomplish a fine cutting edge.
Hardened Steel Scraper Burnisher
Great tool I use it on my scrapers to maintain a fine working edge
Shipping
Liquid Shipping
Liquids will not ship in the kit box. There are different regulations that apply to the chemicals that we sell and they will need to ship ground, when the kits will ship USPS Priority Mail. Plus, it would really stink if a liquid were to leak on your beautiful new kit!
Order tracking
You will receive tracking information when your item ships. For kits, you will be contacted before shipment and after shipment so there is no need to worry about a kit box shipping when you are out of town. All other packages will ship when available and you will be emailed a tracking link.
Get in touch
If you have questions, feel free to email us at info@kiblerslongrifles.com or give us a call at 330-551-5844. Even if you have to leave a message, we promise to get back with you right away. Bree can answer most questions and she will be sure to ask Jim when needed.