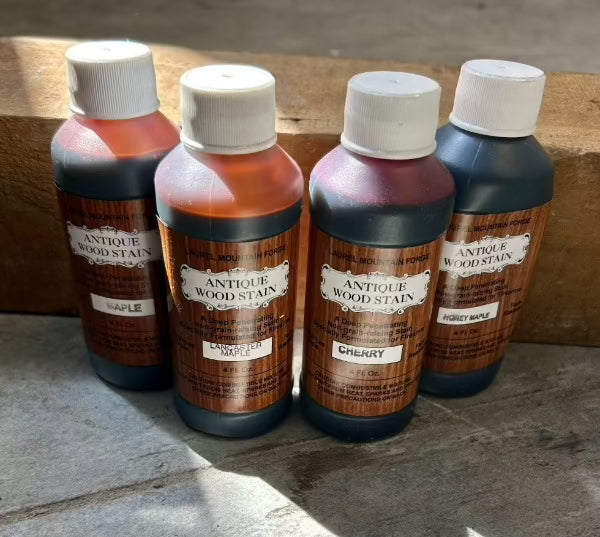 Antique Wood Stain - 4 oz. Laurel Mountain Forge
Cannot ship outside continental United States. Must ship surface transportation only.
Antique Wood Stain
Specially formulated to bring out the rich beauty and figure of any wood.
DEEP PENETRATING - Designed to penetrate deep into wood so surface scratches, abrasion and other wear damage will not expose raw, unstained areas.
NON-GRAIN-RAISING - Suppled in a special solvent blend that will not swell grain, checkering, carving or tight inletting.
LIGHT FAST - The dyes used in Antique Wood Stain are metal complexed solvent soluble dyes. These dyes are exceptionally light fast and in many cases are more light fast than pigmented stains.
FINISH COMPATIBILITY - Antique Wood Stain can be added directly to Laurel Mountain Forge's Permalyn Finishes. This is especially useful when refinishing worn areas or in restoration work.
RICH COLORS - Will enhance the grain and figure of all woods. Adds depth and clarity that can't be obtained with pigment type stains. All colors of Antique Wood Stain can be intermixed to obtain additional colors.
CONCENTRATED - Antique Wood Stain is concentrated making it economical to use. One 4 oz. bottle will stain many stocks. It can be reduced to obtain lighter shades for even more economy.
MAPLE – Amber color with red undertones. Popular 18th – 20th century American Stock color. When used on walnut stocks, stain has stronger red undertones than Walnut Stain. Produces an exceptionally fine color on English walnut.
HONEY MAPLE - On light colored woods such as maple, this stain will color wood an overall rich honey color. Any figure or grain pattern will be stained a darker amber-brown. Honey Maple has less red under tone than Maple Stain. This color was popular in Lebanon and York county Pa. in the 18th and 19th centuries.
CHERRY – Deep, rich red-brown color. Brings out red undertones when used on cherry or any other wood. Duplicates the color of 18th and 19th century firearms from Lehigh and Northampton county PA., when staining maple. Matches the classic red-brown used on high quality European firearms, when used on walnut. Color similar to that obtained with the natural stain alkanet root, but with the exceptional light fastness characteristic of all Laurel Mountain Forge Stains.
LANCASTER MAPLE – Rich brown color with honey-yellow undertones. This color was popular in Lancaster county Pa. in the 18th and 19th centuries. This is one of our best selling colors.
**These are actual photographs of Antique Wood Stain applied to samples of highly figured hard curly maple. Due to variations in color calibration between computer monitors, these samples are only meant to be general representations.
Prior to application of Antique Wood Stain, make sure the stock surface is smooth, clean and dry. For final sanding we like to use 320 grit paper. Once you think the stock is perfectly smooth, look at the stock once again with a bright spot light shining on the surface at a low angle. Doing this final check in a darkened room helps to pick out any surface irregularities. If you are satisfied with the surface smoothness the next step is to vacuum the stock thoroughly. Any areas of checkering or incised carving should be gone over carefully with a fine, soft-bristled brush to remove any residual sanding dust.

Before applying Antique Wood Stain to any stock, we like to stain up a scrap piece of wood from the stock we are working on. This is to determine if the color will be what we wanted. Discovering you selected the wrong stain color for your stock is the wrong thing to find out after completely staining your stock! To prepare the stain block, just use any left over wood from the stock blank. If you used a precarved stock, just use the inside of the barrel channel. Don't judge the color after the stain has dried, without applying either some finish or sealer to the surface. Since Antique Wood Stain is a dye based stain, once the carrier solvents have evaporated, the stock will look dull and lifeless. It is only after the stock has been rewet with finish, that the true final color comes back. When you are satisfied with the color, its time to stain for real. Just remember that any of the Antique Wood Stain colors can be blended to achieve almost any final color you desire.

For final application to the stock, apply a liberal coat of stain, using a brush or lint free cloth. We like to use cheap disposable natural bristle brushes. A cloth works also, but tends to be messier. If you are going for a darker, more intense color, use Antique Wood Stain full strength.  Dilute with Laurel Mountain Forge Stain Reducer or denatured alcohol for lighter tones. If you use denatured alcohol for dilution the degree of penetration will be reduced somewhat due to the fast evaporation rate of alcohol. When applying Antique Wood Stain, try to keep the application as uniform as possible to keep the color uniform.  Multiple coats of Antique Wood Stain will yield a darker color, better penetration and more uniform color. On darker colored, open grained woods, such as walnut, a 25% stain to 75% reducer is a good starting point. For fined grained, light colored dense woods such as maple either use full strength or dilute 25%.

After staining your wood, allow to dry at least 4 hours before applying a finish. We recommend using  high performance coatings such as our Permalyn Gun Stock Finish and Permalyn Sealer, for long lasting protection.
---
Antique Wood Stain - 4 oz. Laurel Mountain Forge
Fantastic Maple color
Fantastic color easy to apply finishes great. Highly recommend this product.
4 oz laurel mt forge wood stain and stock sealer
best that I have used on any gun stock......highly recomend this product..made tiger stripes in maple stand out.....
beautiful cheery color
used the cheery stain on a 1970s cva hawken kit that i found works great.
Antique Wood Stain - 4 oz. Laurel Mountain Forge
Tomahawk
Worked very well on my tomahawk handle
Shipping
Liquid Shipping
Liquids will not ship in the kit box. There are different regulations that apply to the chemicals that we sell and they will need to ship ground, when the kits will ship USPS Priority Mail. Plus, it would really stink if a liquid were to leak on your beautiful new kit!
Order tracking
You will receive tracking information when your item ships. For kits, you will be contacted before shipment and after shipment so there is no need to worry about a kit box shipping when you are out of town. All other packages will ship when available and you will be emailed a tracking link.
Get in touch
If you have questions, feel free to email us at info@kiblerslongrifles.com or give us a call at 330-551-5844. Even if you have to leave a message, we promise to get back with you right away. Bree can answer most questions and she will be sure to ask Jim when needed.