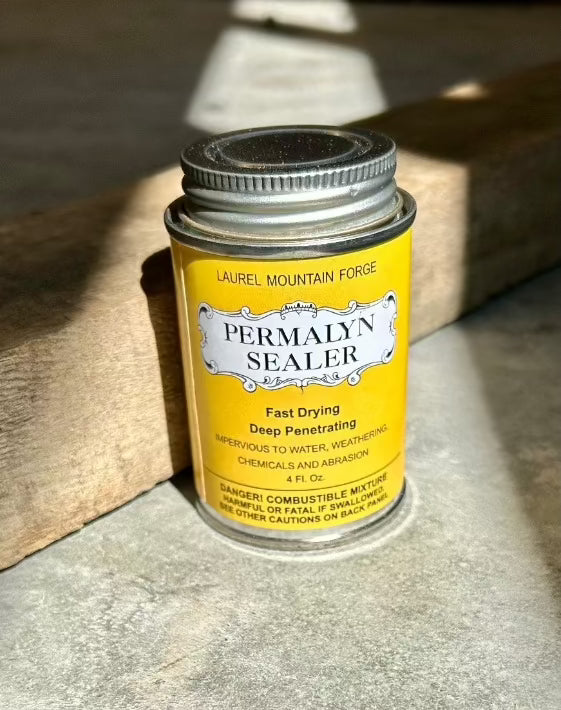 Laurel Mountain Forge Permalyn Sealer
This chemical is subject to additional shipping charges when ordered with a kit. It can not go in the kit box. You will be invoiced for additional shipping charge, if it applies, after the order is placed. Cannot ship outside continental United States. Must ship surface transportation only.
Permalyn Sealer is made from the same base oils and polymers as Permalyn Gun Stock Finish but contains special ingredients to ensure deep penetration into the stock. This affords maximum durability and ensures that surface damage cannot expose raw wood, allowing moisture damage. Permalyn also makes an excellent all-around finish for other woodworking projects. Use it for interior woodwork, furniture, or as an exterior finish. Use it any place durability and beauty are needed.
Prior to finishing your stock, make sure the surface is thoroughly dry. If you stained the wood with our Antique Wood Stain, allow a minimum of 4 hours dry time before applying any sealer or finish. This is to insure the solvents used in the stain do not interfere with the curing of the finish coats.

When finishing a stock, it is important to get as much of the finish as possible, as deep as possible into the wood, to insure maximum wear resistance and protection against moisture. To this end we recommend the use of a quality wood sealer such as our Permalyn Sealer. Other commercially available wood sealers are available, but almost all of these products contain a large percentage of drying oil, such as linseed, which offers virtually no resistance to moisture damage at all. Permalyn Sealer is composed of the same base polymers used in our Permalyn Finish, except it has additional penetrating agents and a slower drying speed to insure maximum penetration.

Before starting the application of sealer or finish, be sure that the area where you will be working is thoroughly clean. Since for most of us space is at a premium, we are usually finishing in the same area where we have been shaping and sanding the stock. If this is your case, take the time to give your shop a thorough cleaning, including any overhead light fixtures which are a prime source of dust contamination.

Once your shop is clean and you have a method set up for suspending the stock you are ready to start the finishing process.

Using a soft bristled brush, apply a liberal coat of Permalyn Sealer to the entire surface of the stock. Make sure that all of wood surfaces are coated. This includes the inside of the barrel channel, under the butt and inside any mortised areas. You should apply enough sealer so that the excess is actually dripping off of the stock. Once the stock is completely coated, set it aside and allow the sealer to soak into the wood for around 10 minutes. Make sure that the stock is not resting on the floor and is well supported.  After allowing the sealer to soak into the stock, carefully go over the surface and check for any areas that appear to have sealer still on the surface. Pay particular attention to the barrel channel, mortised areas and around any carving or checkering you might have. You should find that all traces have penetrated into the stock. If you do find any puddles of sealer on the stock surface, wipe it off carefully with a clean, soft cloth such as an old piece of T-shirt.  If you find any excess sealer in incised carving or checkering, remove this with a soft bristled brush. We like to use an old worn out toothbrush for this. Now re-hang your stock and allow the sealer to dry. Because so much sealer has been absorbed by the stock, it is best that this first coat of sealer be allowed to dry overnight before continuing.

When the first coat of sealer is dry, apply a second coat in exactly the same manner as before. The second coat of sealer will probably not penetrate as much as the first since the first coat of sealer has sealed much of the stock. Because of this, it is very important that the visual inspection for excess surface sealer be very thorough. Allow this second coat of sealer to dry for three or four hours or until the sealer is dry to the touch.  As a helpful hint, take an old piece of glass or clean piece of steel and dab on a little sealer as a cure test. Place the test sample in the same general area as your stock. When the sealer on the sample feels dry to the touch, you are ready for another application of sealer.

Continue applying sealer and allowing to dry, until you first start to notice a slight gloss build up on the stock surface. This is your indication that the sealer has done its job and you are now ready to start applying finish. The number of coats of sealer it takes to get to this point is naturally dependent on the porosity of the wood.

After the last coat of sealer has dried, you are now ready to apply the finish coats. We recommend our Permalyn Gun Stock Finish, which was designed to build more rapidly than Permalyn Sealer. It also has some unique drying properties that allow it to be applied by hand, like an oil finish.
---
Laurel Mountain Forge Permalyn Sealer
Works great
Have not used it on my kibler rifle yet but have used it in the past on other projects. I always hand apply and works great. Love this product.
Super!
Great experience. My first gun build. Learned a lot, I am very pleased with results. Love the crisp quality of every part. So beautiful!
Permalyn Sealer-An excellent product when used judiciously...
Permalyn sealer is a excellent product that I've used on several builds and repairs over the years. After the stock has been sanded / scraped to it's final finish and stained, I brush on a generous coat of Permalyn over the entire surface, including the all of the inletted areas Let it set up for about 10-15 minutes (depending on the warmth and humidity of your working environment), then wipe off the excess with an old clean t-shirt. I let the stock dry for 24 hours, then repeat the process. 2 coats should provide a very water resistant layer of protection for your stock, as well as a good base to build your finish on. After the second coat has dried 24-48 hours, I next use 4-0 steel wool to remove the layer of finish down to the wood. You can now touch up any areas that may have patchy color with some additional judicious staining and start applying whatever finish you chose. Actually, Permalyn sealer works very well as a final finish if built up and 4-0 steel wooled down in between coats, however I'd caution that it becomes rather glossy as it builds up. While it provides excellent water resistance and abrasion protection, it doesn't give the authentic final look that I'm ultimately trying to achieve. It all depends on what kind of look you want. If you are attempting to replicate an original 18th / 19th C look, I've had great results using Tried & True's Polymerized Linseed Oil & Beeswax finish, as the final finish. I built the Kibler Colonial long rifle in the attached photo with a 'hand scraped & antiqued' finish, 2 coats of Permalyn as a sealer, then stained with iron nitrate, Gale's Antique walnut strain and bone black about 2 years ago.
Laurel Mountain Forge Permalyn Sealer
One of the best sealer/ finish I could have asked for. Worked fantastic with the Iron Nitrate and after several applications I finished with their Wood Finish and it added another layer to make my Southern Mountain Rifle stand out in all aspects it was designed to!! Highly recommended these products and look forward to using it on my next rifle build !!
Great Sealer
I've used this to protect the barrel channels as well as lock mortises and I have never had a problem. It has also been used as the only finish on one rifle and did a great job. It's easy to use and dries quickly. I'm ready to use it on another rifle and I am very confident it will protect the wood.
Shipping
Liquid Shipping
Liquids will not ship in the kit box. There are different regulations that apply to the chemicals that we sell and they will need to ship ground, when the kits will ship USPS Priority Mail. Plus, it would really stink if a liquid were to leak on your beautiful new kit!
Order tracking
You will receive tracking information when your item ships. For kits, you will be contacted before shipment and after shipment so there is no need to worry about a kit box shipping when you are out of town. All other packages will ship when available and you will be emailed a tracking link.
Get in touch
If you have questions, feel free to email us at info@kiblerslongrifles.com or give us a call at 330-551-5844. Even if you have to leave a message, we promise to get back with you right away. Bree can answer most questions and she will be sure to ask Jim when needed.